Christmas Living Room Decor Ideas
Sarah Robinson
The holiday season is upon us, which means it's time to start thinking about how to add some festive touches to your home. Whether you want to keep things simple and add a few small items here and there or you want to turn your living room into your own version of Santa's house in the North Pole, we've got some great tips on how to get started!
How to decorate your living room for Christmas
When you're decorating for the holidays, the goal is to create a space that feels warm and welcoming for both you and your guests. Since the living room is where people tend to gather and hang out, it makes sense to focus your attention on this room. (Though we love the idea of putting festive touches all around the house too!)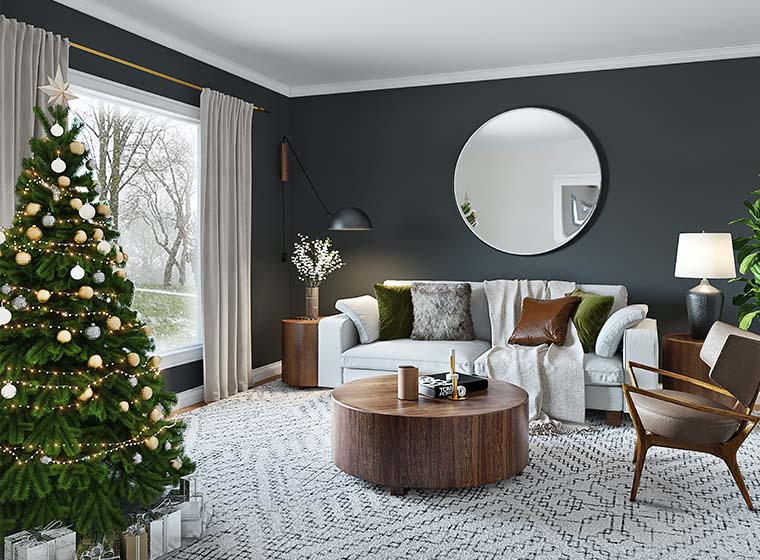 Pick your theme
The first step in creating your dreamy holiday space is to decide on an overall theme for your decorations. So, how do you decide on a theme? A good place to start is to think about how you want people to feel when they're spending time in your living room. Do you want a place to just kick back and relax, a jolly and bright room that gives off a party vibe, or something more formal and traditional? Here are a few theme ideas to help get you started.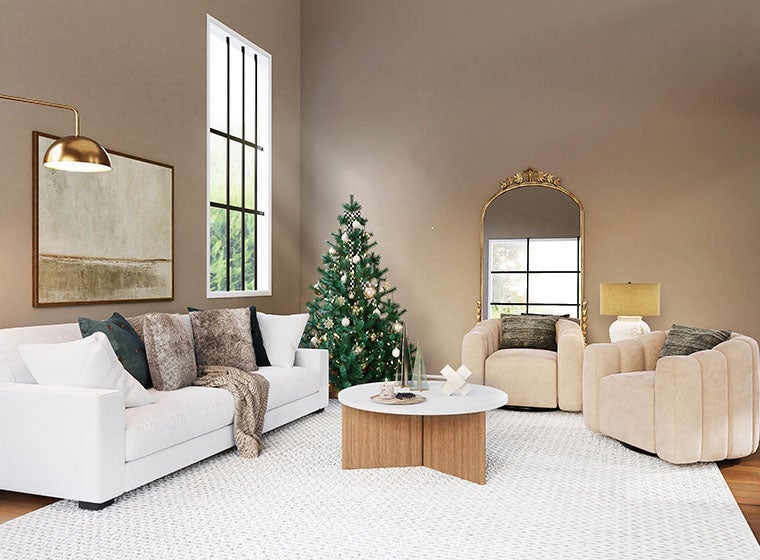 Winter Calm
If you want them to feel calm and relaxed, go for a more natural wintery look, with a color palette of white, cream, natural wood tones, and soft blues and greens. You can also bring in more elements from nature with branches, wooden decorations, and balance it out with super soft textures from blankets and throw pillows.

Fun and Festive

If you want things to feel a bit more lively, a bright, modern theme is a great choice. Classic holiday colors like red and green get a bit more punch to them with more modern versions of cherry red and apple green. You can also take inspiration from your year round decor—instead of opting for traditional holiday colors, find ornaments that match your room! Whether it's aqua, hot pink, millennial pink, or any other shade you can think of, it's easier than you might think to create a holiday look based on your existing palette.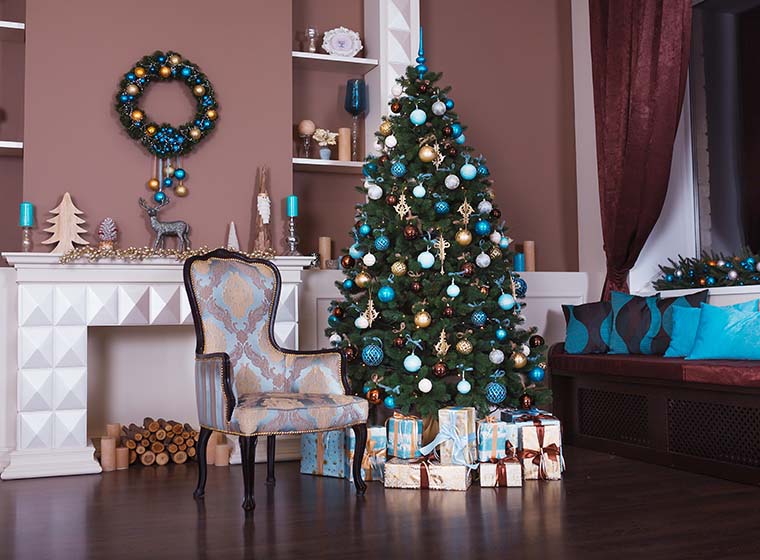 Classic Christmas
This look is pretty easy to pull together, since it's all about those super traditional pieces. For colors, think of the deep shades of red and green you see on a poinsettia plant, or the red of Santa's hat and the natural green of a Christmas tree. To add a hint of sparkle, mix in some metallic silver and gold accents. As for textures, go for luxury with super soft velvety finishes and some shine from satiny fabrics. (Of course, you can never go wrong with a soft knit throw either!)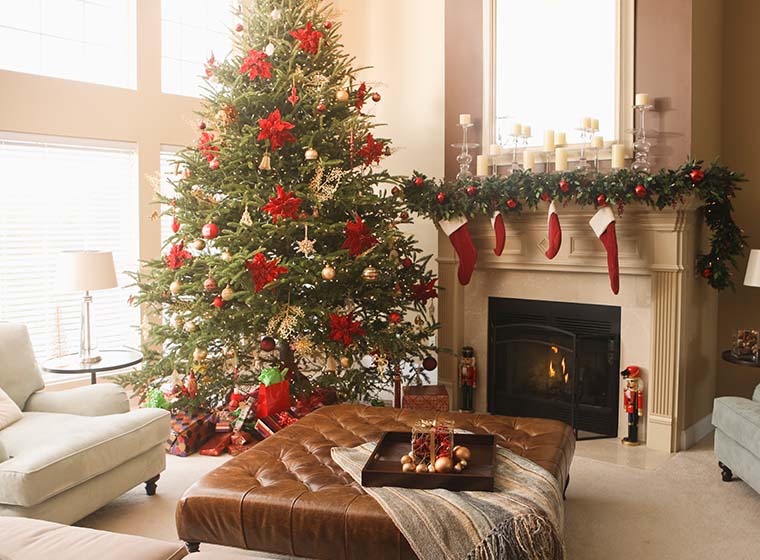 Modern and Minimalist 
This concept focuses on adding in some subtle glam to your everyday decor. Keep things on the neutral side with white, cream, and beige tones, and layer in some metallics with silver and gold in both matte and shiny finishes. Instead of more traditional garlands, use strands of ribbon and smaller, more subtle ornaments and decorative details around your space.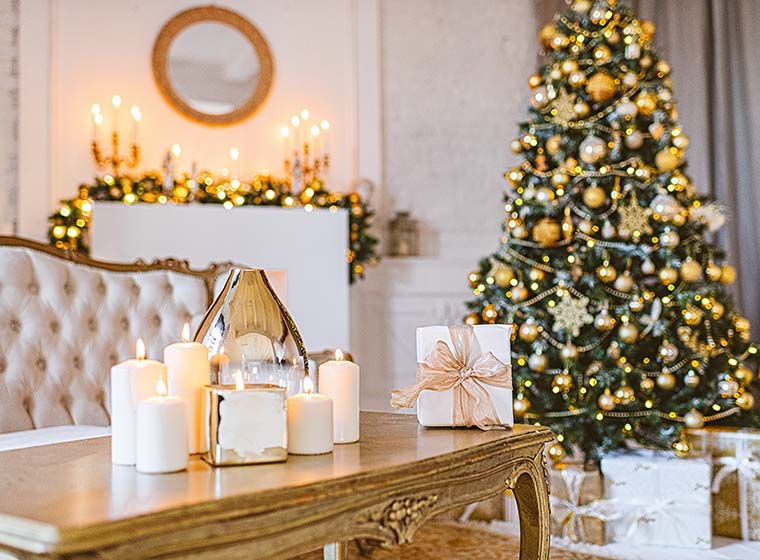 Christmas living room decor
Of course, your holiday color palette is going to be guided by the colors that are already in your room. If you're looking to do a more dramatic holiday makeover that will also look great all year round, you can always give your walls a fresh coat of paint! When you're painting your walls, keep in mind that this color will also need to work in all seasons, so you might not want to keep any more traditional holiday colors to an accent wall, or go for more muted versions. For a little more inspiration, check out our 12 Colors of Christmas for wall colors that scream Christmas but feel just as fabulous in summer!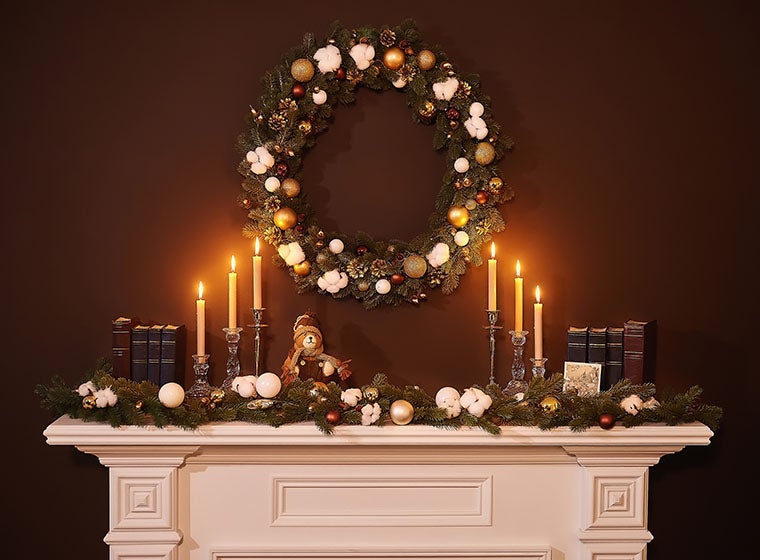 You can also liven up your walls by adding some decorative accents like wreaths, tree swags, or even swap out some of your usual smaller photos and framed artwork with some holiday themed prints and pictures. It's a quick and easy way to bring some holiday elements in without committing to a full room makeover. 
You can also get creative with how you highlight the focal points in your room. If you've got a fireplace with a mantle, hang some tree garland, ribbon, or popcorn garland across it and hang up your stockings to really draw people's attention to it. You can also add a cool centerpiece to your coffee table or other piece of furniture you want to showcase to really make it stand out. And of course, we can't forget the tree! Keep in mind that everyone's eyes will go straight to the tree when they walk into your living room, so you want to make sure you place it in a spot that works with the rest of the elements in your room. 

Now that you've got some ideas to get you started, it's time to deck those halls! If you think this is the year where you want a more dramatic holiday makeover for your home, WOW 1 DAY PAINTING is ready to make it happen! We'll transform your home in a day, leaving you with a brand new space to enjoy for the holidays. To get started, book your free, no-obligation estimate today!