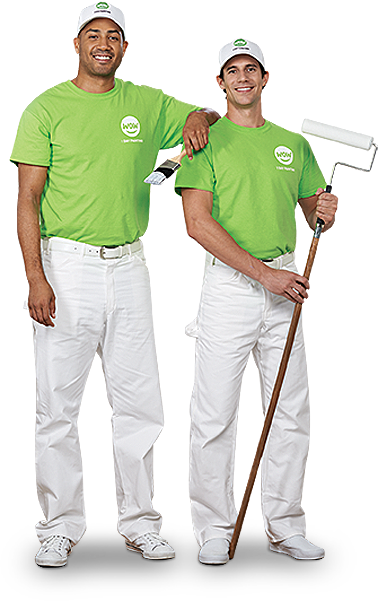 We love what we do! But don't take our word for it, see what our customers have to say!
great experience well organized and excellent communication
- Giselle Damiano, Toronto, Ontario
All I can say is WOW! The job was great, very thorough and efficient. Would highly recommend!
- Columbus Customer, Columbus, Ohio
When I hired 'Wow 1 day painting' I was a little skeptical. Those thoughts were quickly put to rest when the crew showed up on time, prepared and ready to work. The project wasn't a large one (3 rooms, all of my baseboards and doors) but needless to say I was impressed, they easily finished in one day. Not only that, they did a fantastic job. It has me already thinking about my next project. Id recommend their service to anyone wanting the job done the right way and fast.
- Jonathan Gilmore, Scottsdale, Arizona
WOW 1 Day Painting was very accommodating in terms of a date and time for the work to be completed and by allowing me to send pictures of the walls to be painted while construction of my home was ongoing. This allowed me to have a general idea of how much my paint job would cost. Once construction was complete, an estimator (his name was Steve... super friendly and knowledgeable guy!) came out to give a final estimate before the work was completed. The work itself was impeccable. The painter's attention to detail was SPOT ON and my feature walls turned out amazingly well. No streak marks and no imperfections. The work was completed in under 6 hours. I couldn't be more pleased with the results!
- Eathan Lindsay, Edmonton, Alberta
Customer service was great, quick to respond and deal with. The team onsite was friendly throughout and did a great job painting the house. Job was done quickly and efficiently and they made sure we were happy with the results.
- Dan Young, Toronto, Ontario
The entire customer experience. You grabbed me for life and all I was doing yesterday was talking about your company. I teach a class in Humber about Digital Projects and dealing with customers, I took my flowers and my mug to teach the students how to make a great customer experience. And yeah of course the wall instead of being yellow, is green... an absolute stunning green. Makes me happy every time I see it. Not because of the color, but because of how you guys made me feel. Thank you!!
- Luis Balaguer, Mississauga/Oakville, Ontario
Quality work Professionalism Friendly
- Betty Maloney, Calgary, Alberta
WOW 1 DAY PAINTING gave us a competitive price and looked after us and our project using quality materials applied by skilled trades people, on time and on budget! Who can ask for more!
- Fred & Judy Roman, Fraser Valley, British Columbia
Before choosing Wow, I was researching Yelp and couldn't get Painters to fit my timelines. My colleague referred me Wow and I called them. Estimation appointment took sometime but actual Paint Job was scheduled and done very quickly. They are very professionals and done an awesome job. Very punctual and accommodated our requests. Used quality Paint and changed home's interior and brought a new look. I would definitely recommend.Thanks
- Nages Meesala, San Jose, California
All I can say about my house painting is WOW! Great job guys!!
- Virginia North Customer, Stafford, Virginia
What a wonderful team! Jay is super nice, knowledgeable and responsible, from estimate through completion, they are dedicated to customer service and quality, I am so glad to know them and will definitely have them for future projects and highly recommend them to others!
- Julie W., White Plains, New York
very pleased will call again salesman Matt charming/ understood what I wanted/ / go to the job done/done after husband went to work and done before he got home. issue with plants dallus stork were brused/ steam broken used a drop cloth. score 9 that is how you keep a marriage happpy"
- Charmine Neary, Westchester, New York
I didn't believe their slogan of "1 DAY and Done…..Guaranteed", but they proved me wrong, and with neat, professional results. This is truly the best way to paint a house. Their performance proves there isn't a need to waste a homeowners time dragging a project on for days or weeks. Well done, WOW 1 DAY PAINTING!
- Jill Hill, Calgary, Alberta
amazing experince John and crew were great through every step from quote to color to painting,everything went smoothly, got everything our wish list done with all smiles, even with last minute changes,absolutly happy, cheerful great fun experience will recommend to all I know
- CanRef Flamborough Manse, Hamilton, Ontario
They came out and gave me the estimate on the spot. The estimated was lower than other, and they were able to come paint the next week. They did the job and it was well done. They cleaned everything up, and even helped me with some of my own "oop" mistakes on my ceiling. I will definitely call them again.
- Debra Bickford, Knoxville, Tennessee
extremely clean and organized, the team that was here today was absolutely amazing. They were all extremely professional, polite and yet sounded like they were enjoying themselves talking to each other throughout the day. This is my second time using WOW 1 day Painting and it won't be the last. I have told everyone about how great you are. I was also re-assured that if I found any spots that may have been missed, they would be back to fix it. Nothing but super impressed with today's team. Thank you so much
- Dianne Froggatt, Hamilton, Ontario
Bottom line is I would hire them again. Incredible customer service, quick to answer questions and ensure satisfaction. That will always win my loyalty. The work was a little rushed toward the end and there are several small areas that were not attended to (drips left on the wall, paint peeled from tape removal and missed nail holes) but overall I am thrilled with the colors and having as much work completed in one day was our main goal and by far achieved
- Samatha Gamble, Minneapolis, Minnesota
The quality of work performed from estimating to cleanup was fntastic.
- Jo Hunt, Worcester, Massachusetts
After having to wait to pay for a day I sort of lost my cool. It really wasn't anyone's fault..and honestly waiting ANY other time would not have been a big deal..but ...my temper just boiled over. Bad Day. You guys STILL gave me a 5% discount for the inconvenience...even though I REALLY didn't deserve. Thanks :D I look forward to using you in the future when things aren't so hectic.
- Jennifer Katzmaier, Worcester, Massachusetts
Polite and professional crew /had performed a quality job/ willing to be interviewed by any media / world of difference between what was and the result of our work/ looks marvelous/ cannnot put into words his pleasure with the job and Brenden was super to work with.
- Glenn Hurst, Vancouver, British Columbia
These guys are amazing!!!! I just moved to the area they accommodated me GREATLY to start the day escrow closed!! So friendly, fast, honest, reliable, and VERY meticulous! I could not be happier with the job they have done for me! I most defiantly will be calling them for all my painting needs!! Thank you WOW painting for doing such a great job!!
- Dena S., Reno, Nevada
They arrived on time, did an awesome job, were professional and friendly. I would use them again in a heartbeat.
- Karyn Williams, York Region, Ontario
The painters were personable and did everything they promised. We plan on using them again in the future. They did excellent work and a high quality job.
- Scottsdale Customer, Scottsdale, Arizona
It went wonderfully. I appreciate the speed with which the whole process took place, from first contact to job completion. All representatives from the Wow were wonderful to work with from the estimate to the paint job to billing. A perfect experience for someone new to town with no recommendations. I, however, can recommend them highly.
- Stephanie Anthony, Geneva, Illinois
Hi, I was blown away by what a great job Peter's crew ( Peter, Chris, Andre, Brent, Nat, Richie and Collin ) did in my house. The clean up was also unbelievable. The flowers and card were such a nice touch! I will sing your praises to everyone I know. Thank you so much for all you did.
- Margit Coxe, Toronto, Ontario
Very professional, and Jay bent over backwards to help me out and get the work done in short notice. The walls look great and I was able to get my unit rented that weekend because Jay was able to change around his schedule and get the unit painted with a days notice. Well Done! and thank you!
- Adam Bransfield, Westchester, New York
Fantastic team work, punctual, courteous... could ask for better service! Thanks again Mike, Boris and Yves for going the extra mile for us..... Tyrone thanks for everything..... we will see you when we do the basement! :)
- Tara Flery, Kitchener/Waterloo, Ontario
The painting crew was AMAZING! They were on time, super quick, and did such an excellent job on my walls! Thank you Ruth and Carlos!
- Kate Dalton, Vancouver, British Columbia
2367Great service and work! Thanks!
- Daniel Williams, Mississauga/Oakville, Ontario
Would rate 11 if possible just immaculate and professional service, great communication, no hassel over a very fair price, better than clean as a whistle. of course will reccommend to others. keep your painter he was just Great! Wants to know when the stock will go public want in on such a great company.
- Robert Burns, Toronto, Ontario
<! -- // row inner -->