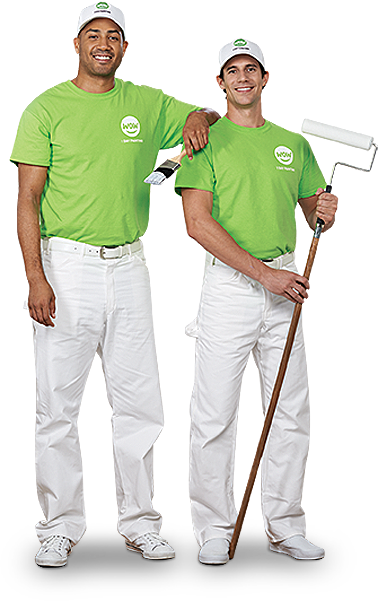 We love what we do! But don't take our word for it, see what our customers have to say!
I can't believe what can be accomplished in just one day! I was truly amazed and would recommend to anyone!
- Casey Johnson, Scottsdale, Arizona
Quality workmanship , Do What they say they are going to do.
- James Fewagle, Knoxville, Tennessee
Met with Lee for the estimate, which went well and he was a very nice guy. Once the day came to have the work done Robby and Ezekiel did the actual painting and it came out perfect! I would recommend and use Wow for any future needs, this company is amazing to work with and very courteous.
- Ryan Sabouneh, Scottsdale, Arizona
Before choosing Wow, I was researching Yelp and couldn't get Painters to fit my timelines. My colleague referred me Wow and I called them. Estimation appointment took sometime but actual Paint Job was scheduled and done very quickly. They are very professionals and done an awesome job. Very punctual and accommodated our requests. Used quality Paint and changed home's interior and brought a new look. I would definitely recommend.Thanks
- Nages Meesala, San Jose, California
ever had better experience working with contractor Jason follow through gave more than expected wished I had more house to paint
- Mike Orrell, Detroit, Michigan
Mike communicated with me professionally to figure out a schedule that met my needs but also was practical for them as well - I understand I am not their only Customer. I'm a Contractor myself with a very busy schedule and having my phone calls or texts returned in a timely manner was much appreciated and allowed me to view and adjust my schedule accordingly.
- Bill Malone, Baltimore, Maryland
Just a fantastic job, always did painting herself and very please with results, the team went ou their way to assist a disabled person and will give an A+ to all she reccommends to WOW
- Jean Gairns, Ottawa, Ontario
Wow 1 Day paining was very thorough, professional and efficient.
- Mary Montgomery, San Diego, California
The service went very well. I had them paint the hallway, doors, trim and ceiling. Two painters were out and completed the job in about 6 hours. The painters were personable and did everything they promised. We plan on using them again in the future. They did excellent work and a high quality job. They did an immaculate job with the clean up. I had no problem scheduling the deal.
- Kevin H, New Rochelle, New York
John and his team went above and beyond their call of duty. They not only manage to finish the job in few hours, but they also fixed our impossible -to-fix wall. They kept coming back to make sure everything was perfect. All the bumps and imperfections in the walls were gone.
- Taz Kamal, Hamilton, Ontario
The painters at WOW 1 DAY are very talented, meticulous, and professional. I am very satisfied with the result of my paint job.
- Kristen, Austin, Texas
Would rate 11 if possible just immaculate and professional service, great communication, no hassel over a very fair price, better than clean as a whistle. of course will reccommend to others. keep your painter he was just Great! Wants to know when the stock will go public want in on such a great company.
- Robert Burns, Toronto, Ontario
From the first time we called WOW to set up an initial meeting to their final paint job, the process was easy and the staff was superb. Travis was very accommodating. The painting crew (Jacqueline, Colin, and George) were amazing, friendly, and the bedrooms look wonderful. We would definitely call them again for our other rooms.
- Tony Leite, Mississauga/Oakville, Ontario
extremely clean and organized, the team that was here today was absolutely amazing. They were all extremely professional, polite and yet sounded like they were enjoying themselves talking to each other throughout the day. This is my second time using WOW 1 day Painting and it won't be the last. I have told everyone about how great you are. I was also re-assured that if I found any spots that may have been missed, they would be back to fix it. Nothing but super impressed with today's team. Thank you so much
- Dianne Froggatt, Hamilton, Ontario
WOW Painting did a FANTASTIC Paint job on my commercial showroom. Very detailed, and done in 1 day. WOW. Would recommend them to anyone looking for a fair pricing paint job and concern for detail.
- Deb T, Anoka, Minnesota
The team painted my entire 1800 sq ft home. Project required 2 coats and sometimes 3. Dated dark colors were replaced with tropical bright happy colors. Each crew member was the utmost professional and courteous. Each one insisting that I was constantly please with the outcome. I am not certain which is more awesome, the new paint and look or how awesome Steve and his crew was. I certainly recommend Steve Lewis and WOW 1-Day Painting.
- Rick Richter, Sarasota, Florida
The painters were personable and did everything they promised. We plan on using them again in the future. They did excellent work and a high quality job.
- Scottsdale Customer, Scottsdale, Arizona
Good communication from estimator. Pleasant workers. Excellent job.
- Steve Blackwell, Calgary, Alberta
Perfection, from initial contact with Justin, to job completion by KC. This service was purchased with an Angieslist special deal, and it was a GREAT deal. I will certainly call them for any additional work we need, and would highly recommend their services. Very professional and conscientious of homeowners comfort. KC went over and above what we requested. He left his work area spotless, and the job he did was perfect.
- Linda, Monroe, Michigan
Great service, great price, no complaints. I'd recommend the WOW 1 Day team to anyone.
- Chris Kurtzman, Scottsdale, Arizona
Amazing service by Robby and Ezekiel, very professional.
- Ryan S, Scottsdale, Arizona
We had our living room painted in our house recently. I was really pleased how the WOW crew was on time, finished the job in less time than they estimated, and most importantly did a very good quality job for a fair price.
- Tracy H., Fort Collins, Colorado
The painting crew was AMAZING! They were on time, super quick, and did such an excellent job on my walls! Thank you Ruth and Carlos!
- Kate Dalton, Vancouver, British Columbia
Customer service was great, quick to respond and deal with. The team onsite was friendly throughout and did a great job painting the house. Job was done quickly and efficiently and they made sure we were happy with the results.
- Dan Young, Toronto, Ontario
The WOW crew was honest and upfront about everything. I got several quotes and they followed up very quickly and clearly answered all of my questions and concerns. They explained the quote and cost in detail and even came back out for free. I have already referred WOW to friends and family who are thinking about giving their home or office a new look.
- Michael Dinn, Scottsdale, Arizona
The entire customer experience. You grabbed me for life and all I was doing yesterday was talking about your company. I teach a class in Humber about Digital Projects and dealing with customers, I took my flowers and my mug to teach the students how to make a great customer experience. And yeah of course the wall instead of being yellow, is green... an absolute stunning green. Makes me happy every time I see it. Not because of the color, but because of how you guys made me feel. Thank you!!
- Luis Balaguer, Mississauga/Oakville, Ontario
John and his team went above and beyond their call of duty. They not only manage to finish the job in few hours, but they also fixed our impossible -to-fix wall. They kept coming back to make sure everything was perfect. All the bumps and imperfections in the walls were gone.
- Crystal Mccovely, Las Vegas, Nevada
We recently had the pleasure of working with Ramsey Frangul and his team in the Cedar Rapids, Iowa market. What a great experience! From submitting an inquiry to job completion, they were wonderful to work with. Ramsey was always updating me on the status of the project beginning with the initial walk around for quoting. His quote came back extremely fair and they were able to schedule my project quickly. His team was professional and courteous. I talked with Ramsey daily throughout the project. I appreciate the opportunity to do a final walk through. There were very few touch ups needed and they were quick to get them done. Oh…and it looks fantastic!!! I would not hesitate to recommend Ramsey and his team to family, friends and neighbors. I am so happy that they are a qualified option in this market!
- Kristy & Dan Ryan, Cedar Rapids, Iowa
The team I had worked in sync with each other and finish the job completely in less time than was originally scheduled. They absolutely did a beautiful job. The red walls that were covered in a light tan we're quite a challenge to them both. The paint job looks absolutely fabulous.
- Mary Byrnes, Sarasota, Florida
The team at Wow were incredibly easy to work with. Their estimate was more than fair and were very professional. They were clean and respectful of my home and our family. We felt very comfortable with the guys working at our house and were very nice people. The results were great and you could tell they really cared about the finished product. The details and their lines were clean and had zero complaints. I would recommend using Wow to anyone that needs their house painted! Good work guys!
- William Cain, Scottsdale, Arizona
<! -- // row inner -->