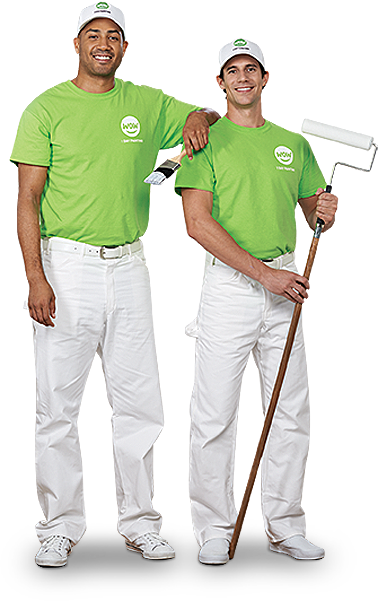 We love what we do! But don't take our word for it, see what our customers have to say!
Wow made it really easy to get my house painted. They showed up on and gave me a fair price. 5 Stars.
- Mark Tevis, Scottsdale, Arizona
"The crew was on time, cleaned up, taped off everything perfectly...Fernando, the foreman, was wonderful to work with, very professional. We are a swim/tennis club and the large job was completed in one day, we are very impressed and will recommend WOW to other clubs in the area. Thank you, Steve Chaney Mgr. Fairbrae Swim and Tennis Club"
- Steve Chaney, San Jose, California
Polite and professional crew /had performed a quality job/ willing to be interviewed by any media / world of difference between what was and the result of our work/ looks marvelous/ cannnot put into words his pleasure with the job and Brenden was super to work with.
- Glenn Hurst, Vancouver, British Columbia
ever had better experience working with contractor Jason follow through gave more than expected wished I had more house to paint
- Mike Orrell, Detroit, Michigan
Alex&Edgar were so polite, professional and clean! As they took a lunch break Alex asked me if I needed anything from the store which I thought was terribly sweet! Thank you so much for having such great guys, you should be very proud of them!
- Susan Hoehi, Westchester, New York
Quality work Professionalism Friendly
- Betty Maloney, Calgary, Alberta
Just a fantastic job, always did painting herself and very please with results, the team went ou their way to assist a disabled person and will give an A+ to all she reccommends to WOW
- Jean Gairns, Ottawa, Ontario
Very professional, and Jay bent over backwards to help me out and get the work done in short notice. The walls look great and I was able to get my unit rented that weekend because Jay was able to change around his schedule and get the unit painted with a days notice. Well Done! and thank you!
- Adam Bransfield, Westchester, New York
"The speed that the job was done and the team was very professional. They really did a great job for us. We will use them again in the near future. Thank you"
- Nancy Craig, Kitchener/Waterloo, Ontario
Could not have had a better experience. The quote was done the next day after calling. The pricing was great. The work was scheduled quickly and completed on-time and in one day as promised. The work was of high quality and looks good. I would highly recommend WOW 1-Day Paining.
- Mike M, Rosemount, Minnesota
WOW 1 DAY PAINTING gave us a competitive price and looked after us and our project using quality materials applied by skilled trades people, on time and on budget! Who can ask for more!
- Fred & Judy Roman, Fraser Valley, British Columbia
Before choosing Wow, I was researching Yelp and couldn't get Painters to fit my timelines. My colleague referred me Wow and I called them. Estimation appointment took sometime but actual Paint Job was scheduled and done very quickly. They are very professionals and done an awesome job. Very punctual and accommodated our requests. Used quality Paint and changed home's interior and brought a new look. I would definitely recommend.Thanks
- Nages Meesala, San Jose, California
They arrived on time, did an awesome job, were professional and friendly. I would use them again in a heartbeat.
- Karyn Williams, York Region, Ontario
John and his team went above and beyond their call of duty. They not only manage to finish the job in few hours, but they also fixed our impossible -to-fix wall. They kept coming back to make sure everything was perfect. All the bumps and imperfections in the walls were gone.
- Taz Kamal, Hamilton, Ontario
The room looks great as usual-quality paint, clean trim and no roller marks on the wall. The painter was presentable, very cordial, told us what he was doing when we asked, and cleaned up when he was done. Bonus is they always arrive on time!
- Tracy Bank, Washington, D.C., District of Columbia
Alex was professsional and handled all my requests. Job well done!
- Gordana Grbic, San Jose, California
Very professional and on time! My kind of people!!
- Megan Bentley, New York, New York
We recently had the pleasure of working with Ramsey Frangul and his team in the Cedar Rapids, Iowa market. What a great experience! From submitting an inquiry to job completion, they were wonderful to work with. Ramsey was always updating me on the status of the project beginning with the initial walk around for quoting. His quote came back extremely fair and they were able to schedule my project quickly. His team was professional and courteous. I talked with Ramsey daily throughout the project. I appreciate the opportunity to do a final walk through. There were very few touch ups needed and they were quick to get them done. Oh…and it looks fantastic!!! I would not hesitate to recommend Ramsey and his team to family, friends and neighbors. I am so happy that they are a qualified option in this market!
- Kristy & Dan Ryan, Cedar Rapids, Iowa
Friendly, courteous staff who did a professional job for a reasonable cost and completed the job in the time promised.
- Kaveeta Ajwani, Ottawa, Ontario
Mike communicated with me professionally to figure out a schedule that met my needs but also was practical for them as well - I understand I am not their only Customer. I'm a Contractor myself with a very busy schedule and having my phone calls or texts returned in a timely manner was much appreciated and allowed me to view and adjust my schedule accordingly.
- Bill Malone, Baltimore, Maryland
Wow indeed! Alexis and his crew just finished our house. it looks amazing, and was just the change we were looking for! In under two days, we went from dark and closed-feeling to open and bright. What's more is the crew was a total delight to have here; they are excellent painters and totally nice guys. I can't believe how fast and how well they worked. When the rain stops, we'll be looking forward to having Wow 1 Day Painting come and paint the exterior. It feels like a brand-new house. :)
- B.M., Sparks, Nevada
I didn't believe their slogan of "1 DAY and Done…..Guaranteed", but they proved me wrong, and with neat, professional results. This is truly the best way to paint a house. Their performance proves there isn't a need to waste a homeowners time dragging a project on for days or weeks. Well done, WOW 1 DAY PAINTING!
- Jill Hill, Calgary, Alberta
All I can say about my house painting is WOW! Great job guys!!
- Virginia North Customer, Stafford, Virginia
ever had better experience working with contractor Jason follow through gave more than expected wished I had more house to paint
- Mike Orrell, Detroit, Michigan
The team I had worked in sync with each other and finish the job completely in less time than was originally scheduled. They absolutely did a beautiful job. The red walls that were covered in a light tan we're quite a challenge to them both. The paint job looks absolutely fabulous.
- Mary Byrnes, Sarasota, Florida
You guys were punctual and ready to go. You went above and beyond especially for just a small area that had to be painted compared to what I'm sure you guys usually do.
- Robert Gill, Riverside, California
Mike Sanders and his crew operated with the highest level of professionalism throughout my one day job. They checked in with me throughout the day to ensure I was happy with their work and to answer any questions I might have.
- Lisa Bohne, Minneapolis, Minnesota
The staff is fast, on time, professional, detail oriented, and willing to make sure all their work comes out great. They go above and beyond. I would DEFINITELY recommend WOW 1 DAY PAINTING. I will be calling them again in the near future for more work to be done in my house.
- Sonja Rodriguez, Worcester, Massachusetts
Tyrone and his team at Kitchener-Waterloo Wow1Day painted the interior of a 1,540 square foot apartment in our 117 year old Victorian income property. From start to finish, the entire process was quick, efficient, professional and exceedingly courteous. Exceptional service at a fair price and accomplished in an incredible 16 hours! I will definitely use Tyrone and his team again.
- Michelle B, Kitchener, Ontario
If I could give 10 stars, I would!!! Craig, Kyle and the whole team were absolutely the best in all aspects of the painting of my condo, including the extremely messy, labor intensive job of removing popcorn ceilings throughout the entire unit. I am very happy I chose them to do the work and highly recommend them. Thanks to each of you who worked so hard on this project. Well done!!!
- Charlotte, McLean, VA, Virginia
<! -- // row inner -->