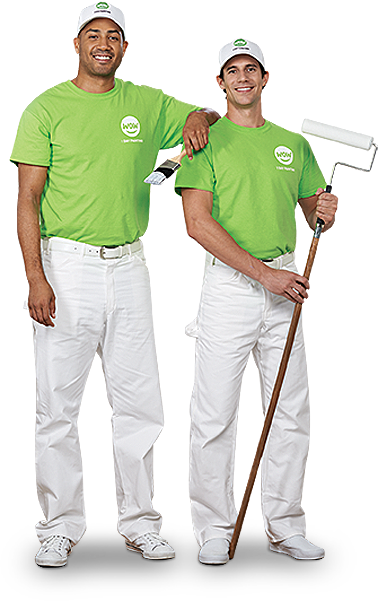 We love what we do! But don't take our word for it, see what our customers have to say!
Would rate 11 if possible just immaculate and professional service, great communication, no hassel over a very fair price, better than clean as a whistle. of course will reccommend to others. keep your painter he was just Great! Wants to know when the stock will go public want in on such a great company.
- Robert Burns, Toronto, Ontario
The room looks great as usual-quality paint, clean trim and no roller marks on the wall. The painter was presentable, very cordial, told us what he was doing when we asked, and cleaned up when he was done. Bonus is they always arrive on time!
- Tracy Bank, Washington, D.C., District of Columbia
"The crew was on time, cleaned up, taped off everything perfectly...Fernando, the foreman, was wonderful to work with, very professional. We are a swim/tennis club and the large job was completed in one day, we are very impressed and will recommend WOW to other clubs in the area. Thank you, Steve Chaney Mgr. Fairbrae Swim and Tennis Club"
- Steve Chaney, San Jose, California
Could not have had a better experience. The quote was done the next day after calling. The pricing was great. The work was scheduled quickly and completed on-time and in one day as promised. The work was of high quality and looks good. I would highly recommend WOW 1-Day Paining.
- Mike M, Rosemount, Minnesota
Polite and professional crew /had performed a quality job/ willing to be interviewed by any media / world of difference between what was and the result of our work/ looks marvelous/ cannnot put into words his pleasure with the job and Brenden was super to work with.
- Glenn Hurst, Vancouver, British Columbia
ever had better experience working with contractor Jason follow through gave more than expected wished I had more house to paint
- Mike Orrell, Detroit, Michigan
Mike communicated with me professionally to figure out a schedule that met my needs but also was practical for them as well - I understand I am not their only Customer. I'm a Contractor myself with a very busy schedule and having my phone calls or texts returned in a timely manner was much appreciated and allowed me to view and adjust my schedule accordingly.
- Bill Malone, Baltimore, Maryland
The entire customer experience. You grabbed me for life and all I was doing yesterday was talking about your company. I teach a class in Humber about Digital Projects and dealing with customers, I took my flowers and my mug to teach the students how to make a great customer experience. And yeah of course the wall instead of being yellow, is green... an absolute stunning green. Makes me happy every time I see it. Not because of the color, but because of how you guys made me feel. Thank you!!
- Luis Balaguer, Mississauga/Oakville, Ontario
They arrived on time, did an awesome job, were professional and friendly. I would use them again in a heartbeat.
- Karyn Williams, York Region, Ontario
Wonderful professional clean and neat crew. The painting is done quickly and precisely. WOW is my first choice for all painting needs. Nancy
- Nancy Craig, Detroit, Michigan
Reliability and honesty is huge! Customer service was great. Easy process--once I decided what I wanted! ;-)
- Kristen Pumphrey, Washington D.C., District of Columbia
I am so happy with WOW 1 DAY PAINTING service that I've already recommended their services to a colleague. From the initial contact with Tyrone and the mid day update/photos to the follow-up at the end of the day to ensure I was happy made for a fantastic experience with WOW 1 DAY PAINTING. They were on time; professional and did a great job. I would not hesitate to call WOW 1 DAY PAINTING again.
- Brenda Slater, Kitchener/Waterloo, Ontario
What a wonderful team! Jay is super nice, knowledgeable and responsible, from estimate through completion, they are dedicated to customer service and quality, I am so glad to know them and will definitely have them for future projects and highly recommend them to others!
- Julie W., White Plains, New York
You guys were punctual and ready to go. You went above and beyond especially for just a small area that had to be painted compared to what I'm sure you guys usually do.
- Robert Gill, Riverside, California
WOW 1 DAY PAINTING gave us a competitive price and looked after us and our project using quality materials applied by skilled trades people, on time and on budget! Who can ask for more!
- Fred & Judy Roman, Fraser Valley, British Columbia
Peter and his team arrived on time, and conducted themselves professionally during the timeframe of our project. Peter and his team fixed a number of deficiencies (i.e. things that were supposed to be primed or areas that were not necessarily paint ready to create a ""perfect finish"") without hesitation and did an amazing job painting our renovation. I would definitely recommend WOW 1 DAY PAINTING to friends and colleagues. Actually, I have been recommending WOW since the beginning of our project to many people. If I had another project in the Toronto area, I would specifically request Peter and his team. I want to thank Peter, Dino, Joe, Sean, Lazlo, Luiz, Rob, Dan and Josh for an exceptional job! And of course George Gill and Val for an amazing experience when they were on-site to give us a quote! Our positive experience with the company started a few months ago with 1-800-GOT-JUNK! I realized that WOW was part of the same umbrella, and because of the amazing service that we had from the crew of guys that came out to empty the contents of the same space that WOW painted, I was sure that hiring WOW would not be a mistake!
- Kim Jones, Toronto, Ontario
very pleased will call again salesman Matt charming/ understood what I wanted/ / go to the job done/done after husband went to work and done before he got home. issue with plants dallus stork were brused/ steam broken used a drop cloth. score 9 that is how you keep a marriage happpy"
- Charmine Neary, Westchester, New York
The service went very well. I had them paint the hallway, doors, trim and ceiling. Two painters were out and completed the job in about 6 hours. The painters were personable and did everything they promised. We plan on using them again in the future. They did excellent work and a high quality job. They did an immaculate job with the clean up. I had no problem scheduling the deal.
- Kevin H, New Rochelle, New York
Wow made it really easy to get my house painted. They showed up on and gave me a fair price. 5 Stars.
- Mark Tevis, Scottsdale, Arizona
The room looks great as usual-quality paint, clean trim and no roller marks on the wall. The painter was presentable, very cordial, told us what he was doing when we asked, and cleaned up when he was done. Bonus is they always arrive on time!
- Tracy Bank, Washington, D.C., District of Columbia
I needed my entire house painted before we left on vacation. I was pretty stressed out and started looking for painters. Dave came by, gave a quote and promised to have the job done before I left on vacation. They finished the job in 1 DAY and I was so happy with the work. I felt completely comfortable with the price and the service was fantastic. I would highly recommend these guys to any of my friends and family. Thanks so much!!
- Sarah, Seattle, Washington
Great job and very professional. Involved exterior painting of only one side of house (sunbleached). Very quick job, and reasonably priced.
- Alan S., Boulder City, Nevada
Friendly, courteous staff who did a professional job for a reasonable cost and completed the job in the time promised.
- Kaveeta Ajwani, Ottawa, Ontario
Alex&Edgar were so polite, professional and clean! As they took a lunch break Alex asked me if I needed anything from the store which I thought was terribly sweet! Thank you so much for having such great guys, you should be very proud of them!
- Susan Hoehi, Westchester, New York
Quality work Professionalism Friendly
- Betty Maloney, Calgary, Alberta
The quality of work performed from estimating to cleanup was fntastic.
- Jo Hunt, Worcester, Massachusetts
Great painters, faux finish was done perfect. Great people to work with.
- Helen W. , Hinckley, Ohio
Just a fantastic job, always did painting herself and very please with results, the team went ou their way to assist a disabled person and will give an A+ to all she reccommends to WOW
- Jean Gairns, Ottawa, Ontario
When I hired 'Wow 1 day painting' I was a little skeptical. Those thoughts were quickly put to rest when the crew showed up on time, prepared and ready to work. The project wasn't a large one (3 rooms, all of my baseboards and doors) but needless to say I was impressed, they easily finished in one day. Not only that, they did a fantastic job. It has me already thinking about my next project. Id recommend their service to anyone wanting the job done the right way and fast.
- Jonathan Gilmore, Scottsdale, Arizona
WOW 1 Day Painting was very accommodating in terms of a date and time for the work to be completed and by allowing me to send pictures of the walls to be painted while construction of my home was ongoing. This allowed me to have a general idea of how much my paint job would cost. Once construction was complete, an estimator (his name was Steve... super friendly and knowledgeable guy!) came out to give a final estimate before the work was completed. The work itself was impeccable. The painter's attention to detail was SPOT ON and my feature walls turned out amazingly well. No streak marks and no imperfections. The work was completed in under 6 hours. I couldn't be more pleased with the results!
- Eathan Lindsay, Edmonton, Alberta
<! -- // row inner -->